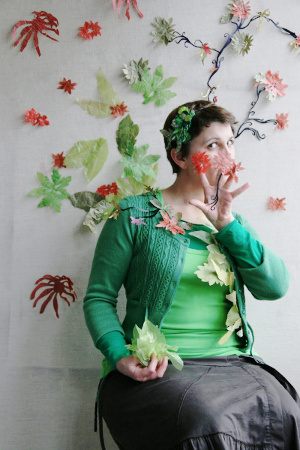 "After studies of arts, fashion design and costume, i choose to complete my knowledge with a training on the entertainment's hats.
During several years i worked as a costume maker, costume designer, wardrobe dresser, props costumer on many interesting and successful projects. Then i choose to become a milliner for theatre, cinema, tv movies, cabaret, opera, advertising and private collection.
So in 2006, i decided to create the brand « titiche Sainte S » in order to propose a range of everyday life hats tinged with fancy and wonder that i mix with my professional life everyday.
I glean here and there
the cut of a traditional headdress, the silk of a forgotten tie, the relics of a king's crown, the remains of an old fashioned coat or the influence of an epoch.
Then all is removed, perfected, refined, improved in order to show that the simplicity of the lines, the convenience of the detail and the originality of the fabrics make my hats uniques.
Laetitia Mirault
CV version PDF